We provide high performance game servers with a professional control panel, a 99.9% uptime guarantee, expert customer support, DDoS protection, and more!
Over 100 Supported Titles
Pterodactyl Control Panel
User Controlled Backup
Full File Access
Expert Customer Support
US & UK Locations
We Provide World Class Gaming Servers
High-end Gaming servers, perfect for casual and professional gamers alike. Add maps, mods and more!
Now Supporting Over 100 Games!
We use Pterodactyl to manage our servers, one of the most powerful and expansive game server hosting platforms. You'll be in complete control with the ability to fully customize all aspects of your game servers, including Minecraft Mod Manager, File Manager/Editor, Live Logging and more!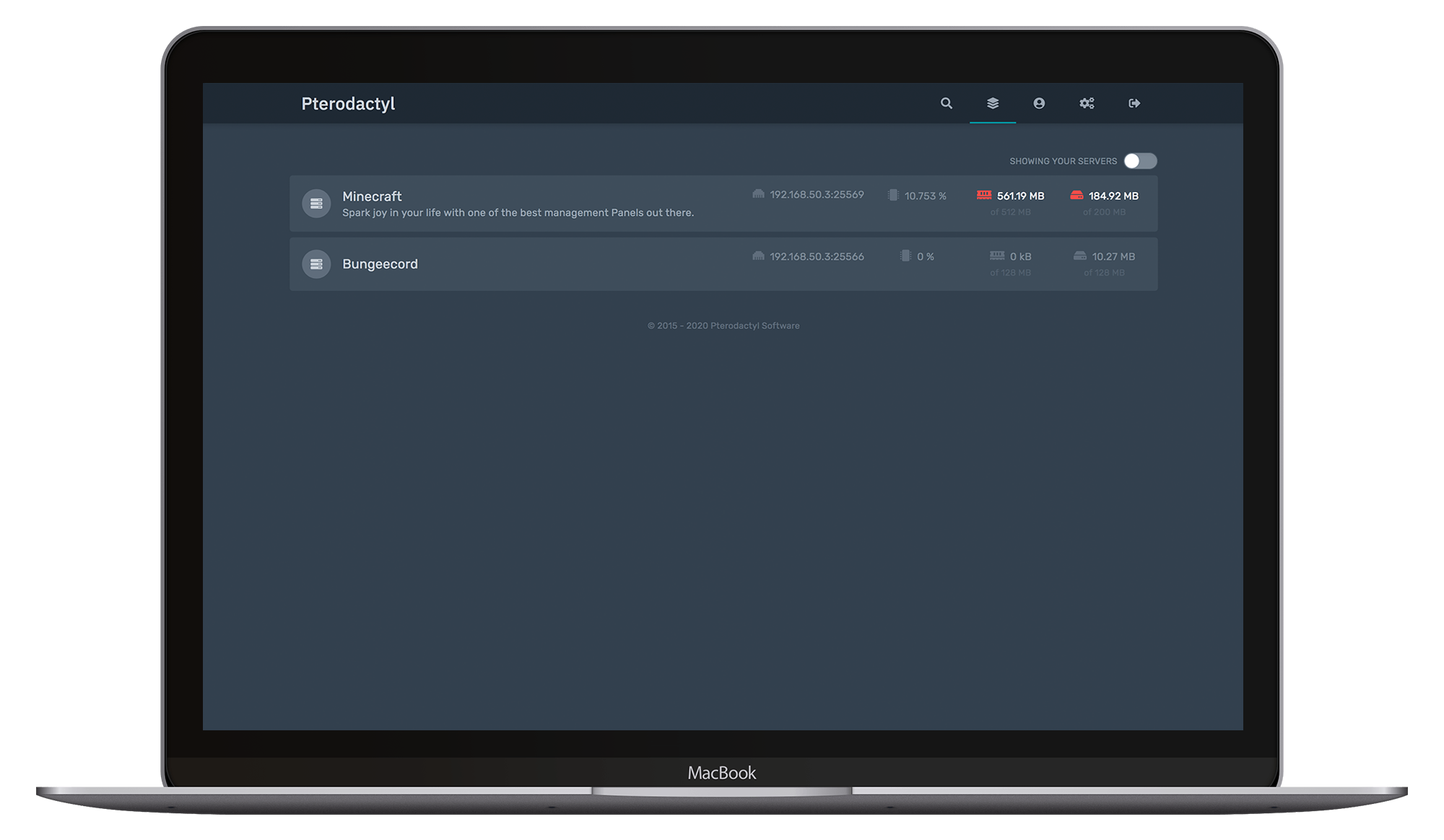 Even with the all powerful Pterodactyl software at your disposal, sometimes you'll still miss something in a config file or forget a crucial server setting. We understand and we're here to help anytime!
We have experienced staff available around the clock to help you get your servers going and keep them going. If you need help, all you need to do is open a ticket or use our Live Chat feature.
Now you can open a ticket in our Discord for lightning fast help or just to play a few games with our staff!
Discord Invite Link
We always check not only the relationship between the purchase price and the performance offered, but we also look at the energy efficiency and durability of each hardware component. This way we can be sure that purchased hardware will be long-lasting and inexpensive to operate which translates directly into our ability to offer low prices.
Our proprietary optimization scripts dynamically manage load on our servers. This way we are able to offer stable performance for all our customers at a great price point. Also, our logistics and warehouse management are optimized to reduce waste which allows us to offer even better prices.
Crazy good performance with on the spot support. These guys really know what their doing. They helped me configure several of my servers and Plus they're really fun to game with!
I've never had my own game server before but Shadow Servers took good care of me and got me all set up and running. Now i have a few servers across a some of my favorite games and any issues or questions i have that i cant figure out myself, shadow takes the time to explain and fix which is a huge burden off my shoulders while i am busy trying to keep up with my friends, games and life all at a excellent price
I'm impressed! Shadow Servers is transparent and was very helpful in getting things up and going. I needed some help setting up my Valheim server properly, and Shadow Sysop helped me through it. It's great being able to msg the staff on Discord.
Once you look past the ludicrously good price plans, the clean website, and the efficient control panels, you are left with the most impressive aspect of this company…Shadow's customer service. He goes above and beyond to make the user's experience seamless and takes personal pride in ensuring all of your questions and issues are attended to as quickly as possible. His personal touch and knowledge are what sold me on renting servers here.
This is one of the only hosting providers who doesn't overprovision the hell out of every single piece of hardware. I've never been a victim of neighbor noise or bottlenecked by antiquated hardware when using my server. I started with 1 and now I have 7.
Shadow is the best!! He gave me a free month when I was having financial issues and I think that's pretty cool. It's also great that he's so accessible and willing to help with any issue
I'm not a computer person, so I'm glad the guys at Shadow Servers are so helpful. They spent over an hour setting everything up for me without a single complaint (I can barely power on my PC). Everything works perfectly.
I've been with other server companies before and Shadow Servers is the best by far. They're cheaper, have better hardware, and better support than any of the others I was with before. My $3.99 server blows away my $9.99 Ping Perfect server, and it even has better ping!!